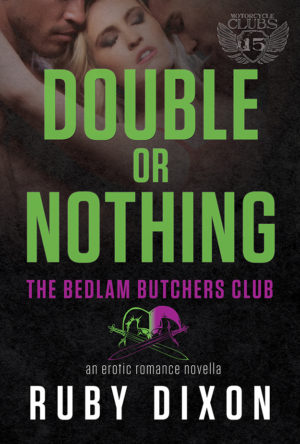 Want this novella at a discount?
This novella is also available for purchase in the BEDLAM BUTCHERS: SHY, MUSCLE & BEAST box set. 
Double or Nothing will be available March 15th.
EVERYTHING IS ON THE LINE
I've found a fragile happiness with my two men, Beast and Muscle, Warlords of the Bedlam Butchers. Our threesome works so well that I can't imagine a day without them…or a night without both in my bed.
But a rival MC has decided that what's in the past shouldn't stay there. With loads of blackmail information on the line, Beast might be going back to prison unless we can make a deal. But what the other club is asking for is nothing less than me, in a stranger's bed.
And Beast is going to sacrifice himself for me unless I find a way to save him…
Subscribe to receive news and updates!