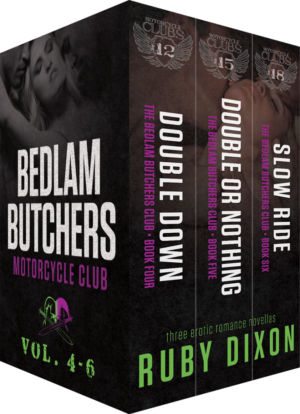 This box set will be available June 1st, 2015.
Collecting the heart-pounding second trilogy in the ongoing saga of the Bedlam Butchers and the ladies that love them…
DOUBLE DOWN
Shy loves Beast and Muscle. The two brutal Warlords of the Bedlam Butchers have taken her into their arms and their life. Nothing can ruin her happiness…except the rest of the club. To make matters worse, cocky, outrageous Muscle has shut down entirely. Something's bothering him, bringing war flashbacks with it, and it's threatening to destroy everything…
DOUBLE OR NOTHING
Shy's found a fragile happiness with her Warlords of the Bedlam Butchers. But a rival MC has decided that what's in the past shouldn't stay there. With loads of blackmail information on the line, Beast might be going back to prison unless they can make a deal. But what the other club is asking for is nothing less than Shy herself…
SLOW RIDE
Lucky's the first woman to ever be patched in the Bedlam Butchers, and she's still trying to figure out where she stands. The guys keep protecting her from the worst club business, and well, treating her like a girl. To make matters worse? She's pregnant. How's she supposed to be a tough biker if she's got a baby on the way?
Subscribe to receive news and updates!