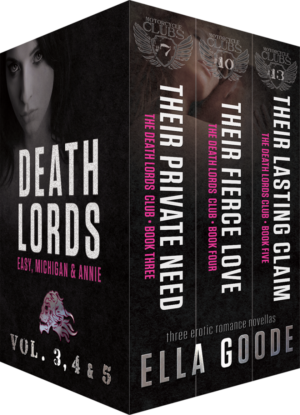 This box set will be available June 1st, 2015
Take one shy preacher's daughter and two hardened MC enforcers for one explosive read. All three of the Annie, Michigan, and Easy novellas in one bargain priced bundle.
THEIR PRIVATE NEED
Annie: I've been the good girl too long. I don't drink, don't smoke, and live at home with my preacher father. The most daring thing I've ever done is work part-time at the library. Rule-breakers and lawless men aren't part of my world but not doing doesn't mean I haven't thought about it. And every fantasy I've ever had is promising to come true if I just take a chance.
Easy: The moment I laid eyes on Annie, I knew she was the one for me and Michigan. We've been partners ever since we served and now we do everything together. And by everything I mean riding, drinking, and women. If we can get Annie on board, it'll be perfect. Not only do I have to convince Annie, though, I need to convince Michigan, too.
Michigan: Easy seems to think sweet, delectable Annie's just going to fall into our laps. But my one experience with a preacher's daughter left me scarred—emotionally and physically. A good girl like Annie wants to experience a little danger but she doesn't want to live it and I'm not going all in unless this is for the long haul.
Three hearts are on a collision course. They will either be ruined or remade.
THEIR FIERCE LOVE
Love ain't simple, easy, or uncomplicated, but it's d@mn good.
Easy and Michigan fought together in the Marines and have shared women ever since. Lots of ladies are down for a one night stand but they haven't found one who was willing stay the course with both of them…until they meet untried pastor's daughter, Annie Bloom.
But a few nights of stolen passion aren't enough for the three of them. The two men set out to prove to Annie that they're worth a lifetime of love.
Their fragile new relationship is threatened when Annie's father learns the truth and soon the struggle to stay together becomes one of life or death.
THEIR LASTING CLAIM
Pregnancy should be a joyous event, especially for former pastor's daughter Annie Bloom. She's found the love of her life with not one man, but two. Michigan and Easy, the two Death Lords Enforcers, have claimed Annie as their own. But not everything is simple in a relationship and happy ever after must be fought for.
When Annie's father is released on bail and Annie's estranged mother appears out of the blue, the threesome's fragile bonds are tested. Annie, Easy, and Michigan will have to fight old dangers and new to keep their family from falling apart.
Subscribe to receive news and updates!