Are you new to Kati's work?
This page is intended to be a quick and handy guide to Kati's books, so you know where you can start, which books standalone, which are in Kindle Unlimited, and so on. One thing I can tell you about all of them at once is that a) there's no cheating, b) there's always a happily ever after, and c) they're hot. 
Click on any of the covers to be taken to that book's page. If you have any questions, feel free to email me at kati@katiwilde.com or contact me on my Facebook page or Twitter. Happy reading!
Kati
Like the Beauty series below, The Midwinter Mail-Order Bride is part of a multi-author series but also a standalone tale. We each wrote a novella incorporating a shared theme—in this case, mail-order brides—but put our own spin on our respective stories.
Mine is a departure from my usual genre and style. It's an unabashedly romantic fantasy, featuring a violent barbarian king and the princess determined to kill him. This 50k-word story (a double-length novella) is 99¢ and available in Kindle Unlimited.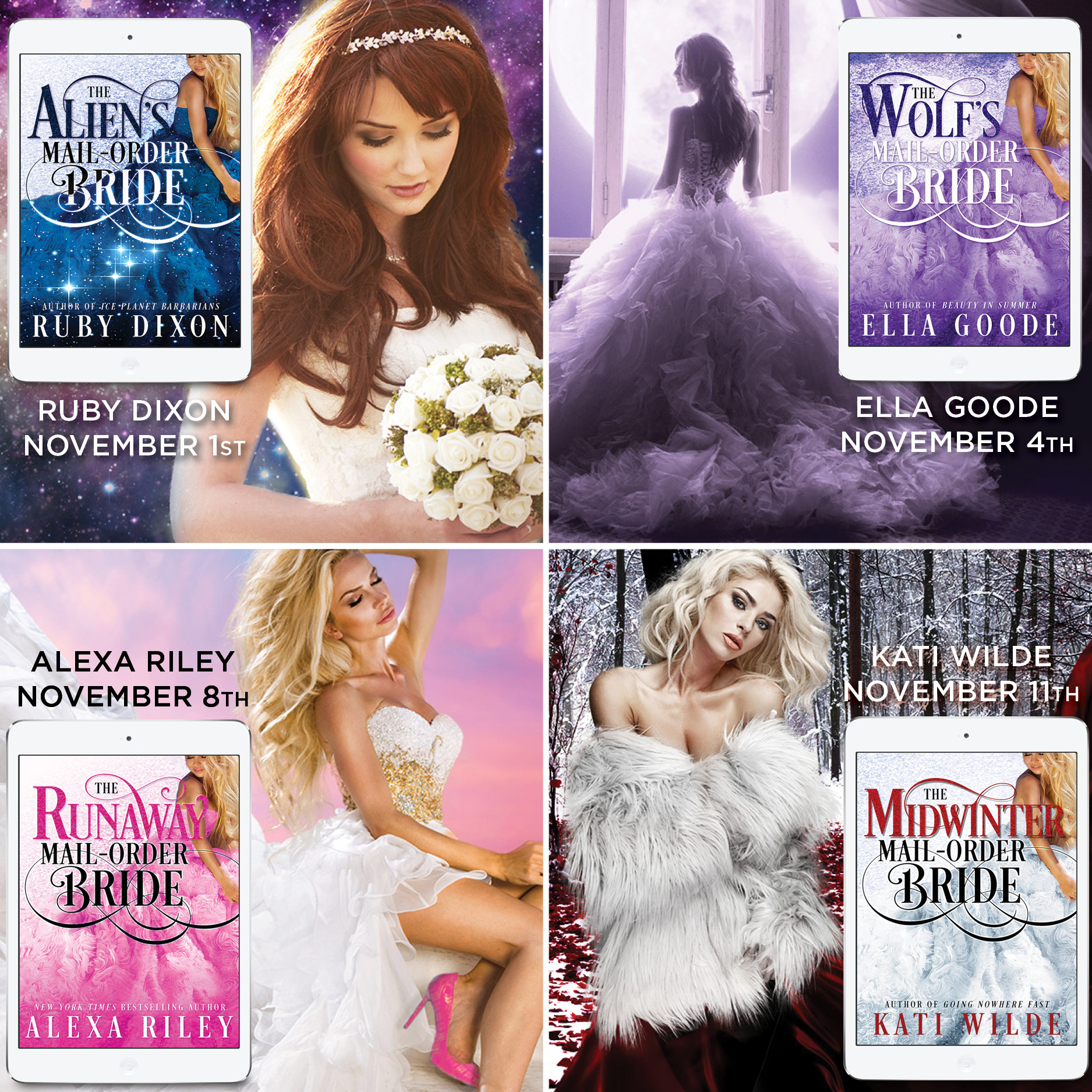 Going Nowhere Fast & Secret Santa are both standalone titles that aren't part of a series.

Going Nowhere Fast is a full-length New Adult published by Berkley InterMix. It's an enemies-to-lovers road trip romance filled with angst and a dirty-talking hero (but all my heroes talk dirty.) It's available at every online bookstore for $2.99.

Secret Santa is a hot (and pretty long) holiday novella. Down-on-her-luck Emma finally has found a new job that she loves, but she just can't figure out why the boss's far-too-sexy son just can't seem to stand her. It's available for $2.99 or to borrow in Kindle Unlimited.
Beauty In Spring is part of a multi-author series but also a standalone tale. One day, the four of us were tossing around ideas in our e-mails, one thing led to another … and we decided that we were all going to write our own version of Beauty and the Beast.
So this is mine! It's an over-the-top (completely OTT), filthy fairy tale about a girl who returns home after ten years to find that her childhood love isn't the same man he used to be. This novella-length story is 99¢ and available in Kindle Unlimited.
The Hellfire Riders MC series began as part of the Motorcycle Clubs multi-author series, which was originally conceived as a series of novellas for readers who want scorching heat, deep emotion, and a happy ending, but who don't have the time to read a full-length book. Each of the novellas ended happily, and some of the novellas in the other authors' series only featured a couple once, but mine started out with two different couples who were featured in three novellas each.
Those six novellas are collected in these two box sets (and comprise the first six volumes of the Hellfire Riders series). The first features Saxon & Jenny, the prez of the Hellfire Riders and the daughter of the prez of a rival club; when Jenny is threatened by a gang of white supremacists, Saxon will do anything to protect her, even if it means losing his place in the Hellfire Riders. The second features Jack & Lily, the Hellfire Riders' warlord and their only female member, who loses a bet and has to pay up by spending a night in Jack's bed.
Currently, Saxon & Jenny's box set is on sale for only 99¢. Jack & Lily's box set is $3.99. Both box sets are in Kindle Unlimited. 
Breaking It All is a super-long novel featuring the Hellfire Riders' sergeant at arms, Gunner, and his best friend's little sister, Anna. For ten years, they've both hidden how they each felt, but when Anna's brother goes missing and Gunner's past shows up on her front door, there's no hiding anymore. Breaking It All is $3.99 and available in Kindle Unlimited. 
Giving It All is a coda to Saxon & Jenny's story. When tragedy comes to Jenny's life, Saxon is at a loss about how to help her—and the appearance of his deadbeat dad doesn't help matters any. This novella is the only story in the Hellfire Riders series that I don't think stands alone well; you will want to read Jenny & Saxon's box set first. Giving It All is 99¢ and available in Kindle Unlimited.
Originally Stone's novel was going to follow Breaking It All, but that book ran longer than I intended, which pushed my schedule back—and to avoid conflicts with my publishing contract for Going Nowhere Fast, I couldn't release any novel-length books before that book was out. So in the interim, I went ahead and wrote shorter works for two more Hellfire Riders: Bull and Duke. 

Both of these stories stand alone well. If you haven't read any of the others, you can still pick these up and enjoy them.
Craving It All is Bull's story. The giant biker has been silently waiting for a pretty barista to notice him—and he knows she's running from something. Sara Abu-Hamdi is running, and she's definitely noticed him…but when she finally asks him for help, they both run into more trouble than they expected. Craving It All is $2.99 and available in Kindle Unlimited.
Faking It All is Duke's story and the latest release in the series. When the club is hired to protect a famous movie star, he knows something's wrong about the job. But he doesn't expect that the woman he's protecting isn't the woman she appears to be—and she's in far more danger than either of them knows. Faking It All is $3.99 and available in Kindle Unlimited. 
Coming in Fall/Winter 2017 — Losing It All (Stone's book, finally!)
Subscribe to receive news and updates!