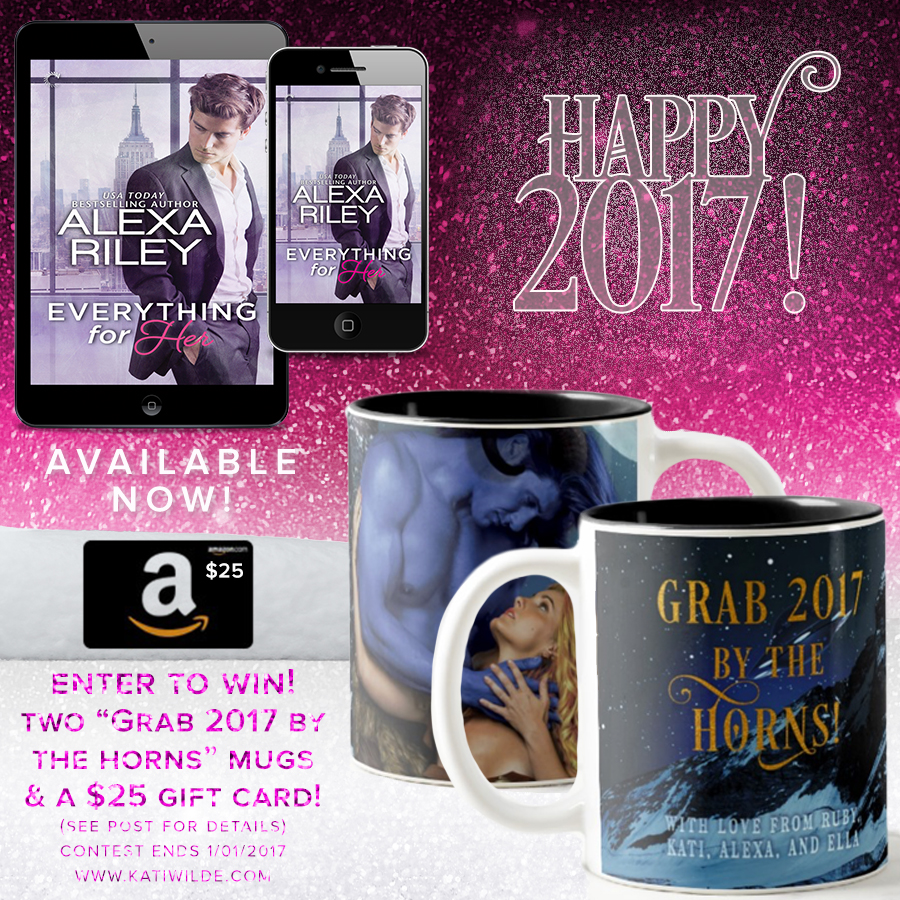 Goodbye to 2016…
Let's grab 2017 by the horns!
It's been a rough year for many of us, which means that I'm more grateful than ever for romance and the happily-ever-afters that help lift the blues — and especially grateful for our readers, who make all this worth it. You are the very best, and we thank you so much taking this journey with us!
And as hard as the year has been, we ladies at the Motorcycle Clubs also have a lot to celebrate! December 27th marks the release of Alexa's fabulous Everything For Her, a full-length novel that kicks off a new series (but with all that Alexa-goodness you've come to love.)
So to help Alexa celebrate the release (and the end of 2016!) we're giving away a pair of "Grab 2017 by the horns" mugs and a $25 Amazon gift card! To enter, just fill out the entry form below. 

I've also rounded up (almost) all of our 2016 releases, just in case you missed any! Here's hoping that 2017 brings everyone as much love and joy as it can. 

Happy reading!
Kati
2016 Motorcycle Clubs Releases
from Kati, Alexa, and Ruby
Kati Wilde's 2016 Releases
and 2017 Pre-Order for a book written in 2016!
(some of) Ruby Dixon's 2016 Releases
Stay tuned in 2017 for an awesome new series!
(some of) Alexa Riley's 2016 Releases
and a 2017 pre-order for a book written in 2016!