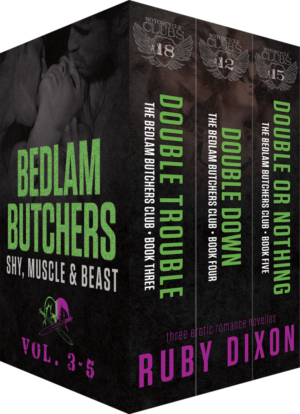 This box set will be available June 5, 2015.
In the world of motorcycle clubs, a snitch is a dead man. And the Bedlam Butchers have a snitch who's intent on taking down one of the newest members of their club.
Shy knows just who the snitch is, too–it's her older brother. But she can't do anything about it, because Shy's got no one to protect her. If she tells what she knows, her brother's going to sell her out to his new, dangerous buddies. If she keeps quiet, she's still at risk from the Butchers. She needs someone at her back. Enforcers Muscle and Beast are the perfect solution… if she has the guts to make a play.
Beast's big hulking form and a face only a mother could love drives most women away. Muscle's pretty as could be, but he's got a nasty attitude and a brick wall around his heart. No one wants to get in their bed…which means they're perfect for Shy's needs. When the three get together, it's obvious that these men need Shy just as much as she needs them. And now she wants to stay for entirely different reasons than just safety.
But what's going to happen when they find out Shy has been withholding information?
When you love two men, the stakes are higher.
I love Beast and Muscle. The two brutal Warlords of the Bedlam Butchers have taken me into their arms and their life. Nothing can ruin my happiness…except the rest of the club. They're tough, rowdy, and everything I'm not. It's clear I need to fit in or hit the road, because I can't make my guys choose between me and the Butchers.
To make matters worse, cocky, outrageous Muscle has shut down entirely. Something's bothering him, bringing war flashbacks with it, and it's threatening to destroy our fragile new relationship.
One thing's for sure. I may be down, but I'm definitely not out. And I'll fight to the death for my men if I have to.
Everything is on the line…
I've found a fragile happiness with my two men, Beast and Muscle, Warlords of the Bedlam Butchers. Our threesome works so well that I can't imagine a day without them…or a night without both in my bed.
But a rival MC has decided that what's in the past shouldn't stay there. With loads of blackmail information on the line, Beast might be going back to prison unless we can make a deal. But what the other club is asking for is nothing less than me, in a stranger's bed.
And Beast is going to sacrifice himself for me unless I find a way to save him…
Subscribe to receive news and updates!